More than five million aging Americans suffer from different forms of dementia, such as Alzheimer's disease, Frontotemporal dementia (FTD), and Lewy Body dementia. There are billions of hours spent on taking care of individuals with these memory-related conditions annually in the US Care and supervision of persons ailing from memory-related health conditions depend on the stage of the diseases and may sometimes call for mandatory care 24/7. It is frequently common for individuals in their early stages of dementia and their loved ones to prefer remaining in the comfort of a familiar home under dementia care. However, as limitations escalate, family members and friends suffer frustrations and are overwhelmed by the frequent challenges that arise and follow them; hence may turn to supportive services for help. Fortunately, professionals have come up with many programs that provide respite care, residential care, and other aid forms to help families, friends, and caregivers.
Early Signs and Symptoms of a Person Who Would Need Care Assistance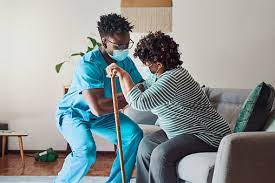 When considering whether long-term care is a suitable course of action for a dementia patient, there are several issues to watch out for. If your loved one's condition deteriorates in any of these areas, it may be time to evaluate long-term care options.
1. Physical Symptoms:
If you notice that an individual with a memory-related disorder is losing or experiencing changes in energy, strength, weight, and balance, especially if they live alone, it may be dangerous. This can make tasks like dressing and eating more difficult. In long-term care, the nursing staff assists with these activities and more.
2. Mental Indicators:
Symptoms of dementia such as memory loss or confusion should not be overlooked. When a senior experiences memory problems regularly, it might pose a safety risk. Furthermore, it can be irritating and depressing to be confused about names, dates, or even familiar surroundings.
3. Lifestyle:
If you discover that their house is in disarray or if things appear to be out of place, it may be time to seek long-term health care. Other significant symptoms to watch out for when considering the suitability of seeking long-term care include dents in the fence or garage from a car hitting it and burn scars in the kitchen from a burner left on too long.
4. Hygiene:
If your loved one loses the ability to use the restroom, shower, or often forget to clean their teeth and generally not take care of themselves as before, consider them as symptoms for seeking help in long-term care.
Can a Dementia Patient be Cared for at Home?
The Johns Hopkins Memory and Alzheimer's Treatment Center educates that seniors who have dementia can manage to reside in their homes, perhaps with family caregivers, for longer provided they receive sufficient training and technical assistance.
Johns Hopkins researchers say over 300 elderly dementia patients and their families and caregivers received monthly counseling on dementia patient home care from professionally qualified teams and referrals and counseling on health, diet, activities, and other topics. Approximately the same amount of individuals did not obtain these materials. In addition, families that received assistance remained in their homes for an average of 9 1/2 months longer. However, during the Johns Hopkins study, the self-rated quality of life of older adults and family carers in this group increased dramatically. Regardless of the progress mentioned above, it is always prudent to be open to the idea of getting the patient-professional help since these people are specifically trained to care for such individuals.
What is Dementia Home Care?
Dementia home care entails caring for dementia patients in their homes for as long as it takes, sometimes until they die. It may be bearable in the early stage, but as it progresses, it takes a toll on the patient and the individuals caring for them. While home care is a common occurrence in the US, it is not recommended since, in later stages, the family member or live-in caregiver may not provide the care offered at nursing homes, leading to immense pain. Dementia requires constant supervision and care, and often, this is not available at home.
How do you Care for a Parent with Dementia at Home?
Family caregivers can help a parent or family member with dementia stay at home longer if they have the correct tools. The patients generally face a lengthy road to recovery, but caregivers assist such as memory aids and opportunities for success along the way.
1.      Memory aids. Memory aids can assist people in becoming more organized and managing memory loss symptoms. Several suggestions are made by the American Psychological Association (APA):
· Using a calendar, notepad, or to-do list as a daily task remembering aid
·  Setting medication and meal alarms, especially after your meal preparation or automatic reminders
·  Creating daily habits that are enjoyable and meaningful activities
2. Success and accomplishments. According to the American Psychological Association, continued learning and achievement can lessen anxiety about memory loss and prevent the progression of cognitive decline. Caregivers can provide key services to assist the elders with mild to moderate dementia to succeed by focusing on their remaining qualities. However, this is not advisable for people with late-stage dementia. When caring for a dementia-stricken parent at home, try to give them as much autonomy as possible.
·  Simplify duties and routines: Your loved ones\ not be able to dress or choose their clothes, but they may be able to choose and put on a hat each morning.
· Provide nonverbal and aural signals for daily life activities: Trying to label a washroom or wardrobe could assist elders in finding the door they need and avoiding mishaps.
·  Break down large jobs into smaller steps: While preparing lunch is difficult, simple targets such as removing bread from a package or peeling a banana may be more feasible.
·  Choose simple, productive activities that your partner or loved one enjoys: Consider their hobbies and check out this list of dementia-friendly at-home activities.
When Should a Person with Dementia go into a Care Home?
Giving dementia patients the necessary help and treatment can soon turn into a full-time job. Respite care and in-home dementia care are two valuable alternatives for easing caregiver responsibilities and providing family members with a reprieve.
Respite Care
Choose respite care if needed, especially when traveling, attending medical appointments, or simply if you need to take a rest while your elderly relative is cared for by someone else. Respite care might be provided at home or in a senior living community locally. It's a one-time solution for caregivers of dementia patients in their homes instead of a long-term commitment.
Short-term assistance or short-term assisted living are other terms used in senior communities for respite care. It is during this period that you get the chance to keep an eye on your emotional health: Periodic respite care, as well as senior care, could be just what you need to replenish your charges, or it could indicate the advantages of long-term memory care over home care.
In-home Dementia Care for Patients
While there are some distinctions between home care and dementia care amenities and features, home care workers trained to assist elders with Alzheimer's disease can provide the following services:
Support in controlling symptoms of sundown syndrome
· Sensory or reminiscence therapy to minimize agitation and inspire positive memories
· You can interact freely and get person-centered care while working, running errands, or caring for family members.
·  You can have help with essential daily living tasks and activities such as eating, bathing, and dressing. This could be crucial, especially during the late stage of dementia or other memory disorders, when a senior individual violently refuses the necessary activities.
Ensure the helper has expertise caring for people living with dementia at home, as this requires a unique set of abilities. Before phoning to screen and employ home care partner providers, be aware of your loved one's cognitive issues, care services, and preferences. Once you've decided on a caregiver, you can introduce their elderly loved one and give caretaker more background. This is helpful as it is required to create a bond.
Do Dementia Patients Need 24hr Care?
The choice of booking your loved one in long-term care is a major decision. After recognizing the indicators that it's time for a change, caregivers and their families may have reservations about relocating their loved ones. They may believe they are abandoning or giving up on their loved ones, but this is not the case. Long-term care is required if a loved one can no longer live independently and the caregiver's help is insufficient to allow the senior to live a healthy, safe, and meaningful life. Again, you have not failed; it just means it's time to hand over control to a team of experts.
There are numerous opportunities to visit and spend time with a loved one. In addition, it grants family and friends the chance to observe how much their loved one is prospering and living an enriching life due to the decision to transition to long-term care.
When does Someone with Dementia Need to go to a Home Care?
Dementia has no cure currently. With the help of family caregivers, some older persons with moderate dementia can age at home for years or even decades. However, keep in mind that dementia is very unpredictable, and care services requirements may change at any time. Also, keep in mind that the needs and abilities of the caregiver may change. One of the most prevalent reasons for older persons with dementia symptoms to go to memory care is caregiver health.
When dementia progresses to the point when any of the three must-haves, safety precautions, health care, and stimulation, cannot be provided or the caregiver's mental or physical health is jeopardized, memory care may be essential. In addition, exploring possibilities ahead of time can help you avoid tension and worry when it's time to make a decision.
Is it Possible to Care for Someone with Dementia at Home?
Seniors who have dementia frequently become disoriented and can roam. A fall might lead to hospitalization or the need for immediate long-term care. As dementia progresses, so does the need for safety: Basic amenities such as handrails and clear, open, and spacious layouts can keep the house free of Alzheimer's safety threats in the early stages of dementia home care. Remove tripping hazards like rugs and electrical cords, and establish paths for unrestricted movement throughout the house. For dementia, home health care services in the stages, full-time supervision, and more extensive house changes may be required. To deter straying and prevent wandering, these could incorporate automatic-off kitchen equipment and alarmed doors and windows.
You also need to know how to provide first aid to provide immediate attention in case of any safety concerns.
You might want to explore respite care or in-home care for a dementia patient for the following reasons.
• Safety. There's no need to be concerned about malfunctioning household equipment or medicine mix-ups any longer since medication management is ensured.
• Professional assistance. Experts who have received professional training will look out for their residents with a compassionate attitude, to trust and feel at ease around the personnel.
• Aspect of social interaction. Seniors have many opportunities to socialize with staff and friends daily because there are various tasks and activities to partake in with other residents.
• Mindfulness. Former family caregivers can rest easy\ knowing that their loved one is receiving the right care services from people looking out for them and trying to enrich their lives as much as possible.
Do most people with dementia live at home?
Most seniors choose to live at home throughout the early stages of dementia or other memory-related diseases, continuing to\ live their lives as they did before their diagnosis. Following a dementia diagnosis, you should have received guidance on how to continue doing the important things for as long as possible and information about local support and services that may be useful. However, as your disease worsens, you will likely find it more difficult to care for yourself and your house. You may then require additional assistance with regular chores such as housework, shopping, and home modifications.
How can you Help Dementia Patients at Home?
The needs of your loved ones will eventually change as the condition worsens. You can take care of your loved one's physical requirements by working closely with their physician. Your ability to be a caretaker for a long time is also crucial. Having a competent care team by your side might help make this process smoother. Some of the ways you can help a dementia patient with home care include:
1. Elevate the safety standards at home.
When a person's dementia progresses from mild to moderate, you might have to make certain adjustments around the house to minimize the chances of falling. You could provide your loved one with all of the comforts of home, plus an added layer of protection, with a little creativity and care.
2. Research extensively.
Caring for someone with dementia isn't always easy. It's counterintuitive. The logical thing isn't always the best option. Insisting that they eat, for example, may not assist if they have swallowing or chewing problems. Instead, learn about the disease and how to treat it, and speak with your loved one's doctor for assistance with caregiving.
3. As family members, find resources for coping with caregiver stress.
It's natural to experience significant levels of caregiver stress when a loved one is in the moderate or severe stages of dementia. As you face the loss of a loved one, you may also need to deal with grief. Mental health is also essential for you to strive to take good care of your loved one. It could be reassuring to compare notes with a social worker who has worked with caregivers before. The social worker has the local resources and can discuss coping mechanisms for dealing with the multiple demands of caring for a loved one.
4. Consider dementia care help when it is due.
Don't do it alone, even though every fiber in your being tells you that you should be able to bear the responsibilities of caregiving. In-home care can be a great blessing for family caregivers if and when this time comes.
In-home Dementia Services
In-home services or companion services involve offering help with the many everyday activities of living in the senior's own home, including:
·  Grocery shopping and meals preparation
·  Transportation
· Medication reminders
·  Companionship
·   Light housekeeping
· Recreational activities
How Long Can a Person with Dementia live at Home?
Dementia or other memory-related disorder patients can live at their primary residences for the rest of their lives. However, this is only possible if they have adequate access to the appropriate care given by trained and experienced dementia live-in caregivers.
Regardless, dementia is a progressive brain disease that worsens over time. While no cure is currently available, an individual diagnosed with a dementia diagnosis on average, can live about ten years with proper medical care. However, people with vascular dementia live for an average of five years after symptoms appear. Again, variations in terms of life expectancy exist. Some people live for over 20 years after a dementia diagnosis.
Consider Personal Care Services if you are a Primary Caregiver to someone with Alzheimer's Disease. Caring for someone with dementia can soon become the household's focus of attention. Young children and spouses may feel left out and forgotten. Make time to plan activities exclusively for the family. A professional caregiver can stay with your loved one and provide enjoyable activities to enjoy the evening as well.
• Make a calendar for the entire family. This should include more than just appointments; it should also include entertaining activities that promote unity.
• Find a network of people who can help you. Form a tag team and invite additional family members to join in. Being the primary caregiver does not imply that you are the only one.
• Take time to think things over. Hold a family meeting to shed light on the causes of strained relationships.
Contact Caring Hearts of Sedona for the Best Long-term Care
We are the go-to home care providers. Our care programs include personalized home care services, lifestyle, wellness, starter, live-in care, transitional care, 24-hour care, and in-facility care program. If tending to a parent with dementia or memory related disorders at home has become onerous, or if you fear they aren't receiving the support needed to decrease cognitive loss, contact our Senior Living Advisors. Our elder living experts can obtain more information about respite care, professional Alzheimer's home care, or memory care in your area. You can always schedule a free home care assessment with us before making any decisions. Call us today and let Caring Hearts of Sedona make things better.